August in the garden – a Mexican fiesta!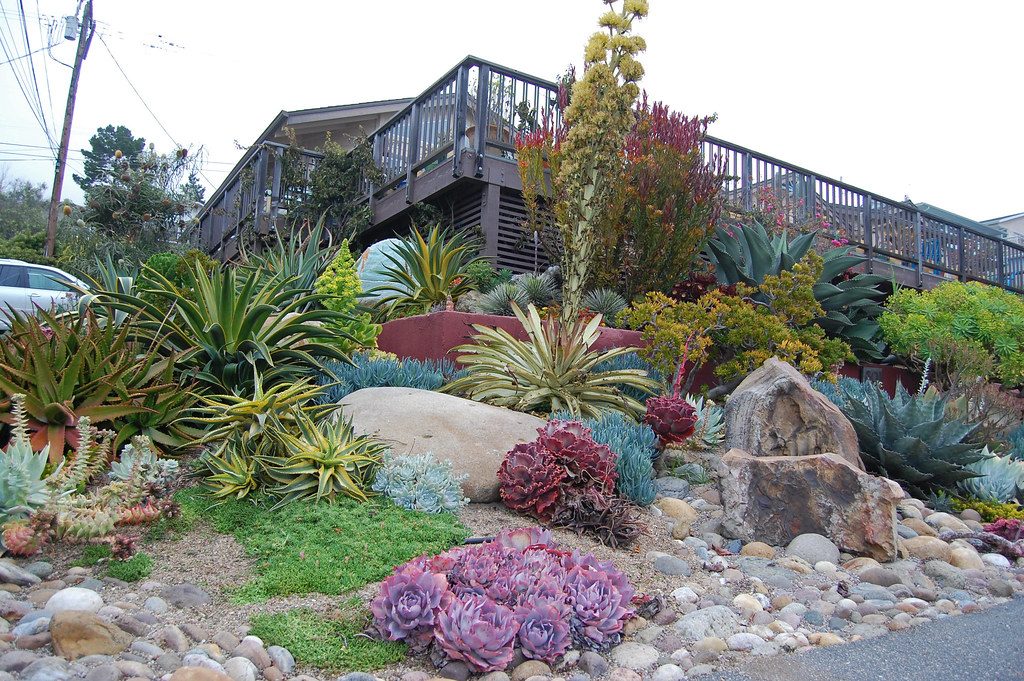 Olá me amigos! This month, our garden inspiration stems from Mexico and its vibrant, easy-go-lucky flavour. Come salsa with us and spice up your garden by planting a colourful burst of summer fun. This water-wise garden is low maintenance and bold in its simplicity. Get your friends together for sundowners and welcome the sizzling summer vibes and braais to your backyard.
Succulent combinations
Weave a tapestry of delight with a vivid variety of plant combinations. It's easy to highlight a medley of succulents accompanied by a diverse range of one-drop plants. These are low water requirement plants that will save your wallet and add rich textures to your space. We love the silvery shards of Blue Chalksticks (Senecio ficoides) – a spreading succulent shrub. It's proudly South African and will thrive quickly in well-drained soil in a sunny area. Contrast these bluish grey-green patches with the robust burgundy of the Bushveld Kalanchoe (Kalanchoe sexangularis) and you have a striking mix of red and blue. These guys are not thirsty so let the soil dry completely before watering. They are hardy and will forgive even the most absent-minded gardener. Their name derives from the Chinese Kalan Chauhuy meaning 'that which falls and grows', so yes, they will survive! These water-wise companions take low maintenance to the next level.
Foxtail Agave
The show-grabber is undoubtedly the Foxtail Agave (Agave attenuata) all the way from Mexico. Invite these amigos into your space to create spectacular visual focal points. They grow up to 1,2 m tall and will add height to the layout. Unlike other agaves, they won't bite. With no thorns or spikes, they are referred to as unarmed. This makes them a friendly addition to any family. You can accentuate their sleek and stylish appearance even more by planting them in decorative pots. We recommend bright, bold red and blue mosaic pots that will tie in with the Mexican theme.
Fire sticks
Throw in a dash of red here and there with the coral-like Fire Sticks (Euphorbia tirucalli 'Rosea') aka Red Pencil Trees. These striking succulent shrubs are hardy and their colour ranges from a faded yellow/orange in summer, to a deep red in winter. They love full sun areas but keep them away from pathways or where small fingers can play or break their delicate stems. Fire Sticks are very toxic so be very careful when handling them. Their milky sap can burn your skin or cause welts if one is sensitive to it. We recommend you wear protective gloves and goggles when working with them and avoid touching your face or eyes. If you feel a burning sensation on your skin or eyes, seek medical advice immediately. So, make sure you plant them safely out of the way where they can look pretty, but can't be touched!
Scatter cushions
Compliment this succulent ensemble with bright scatter cushions or prints from the popular Mexican artist Frida Kahlo. Keep your space casual with nature-inspired floral prints and on-trend and with a few decorative pieces here and there. Now you have all the makings for a memorable outdoor fiesta. Tequila Sunrises and Taco's, anyone?
Visit the Life is a Garden website  www.lifeisagarden.co.za  for more gardening inspiration or join the conversation on our Facebook page: www.facebook.com/lifeisagardensa.