Is my neighbour stealing my WiFi? If so, what can I do about it?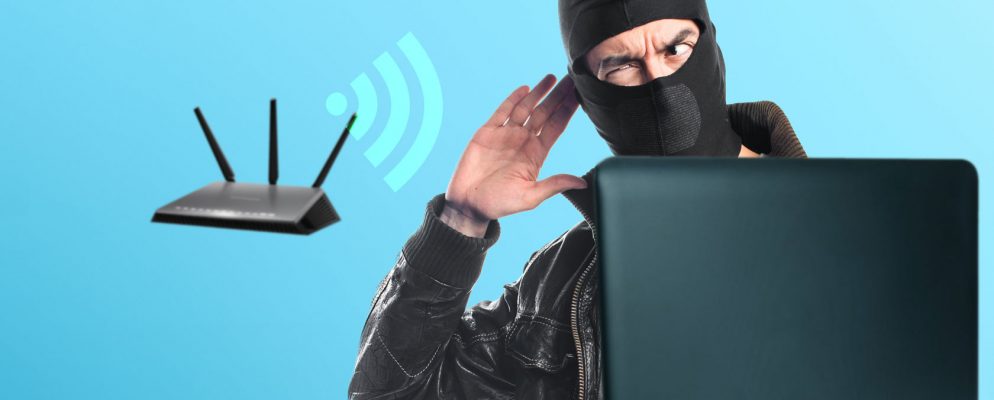 There's nothing more irritating than watching your favourite show on Netflix, only to have it cut off midstream because you have no more bandwidth.  Especially if you know you should have more than enough remaining on your bundle to watch as many movies as you like until the next month. 
Even more vexing, is when you are working on an important project that has to be submitted in an hour's time and your bandwidth has inexplicably disappeared.  If you can't find an obvious reason, it's likely that you're wondering if someone is hacking into your network and stealing your bandwidth.
Omar Kinnear, software expert and developer of ResidentPortal, a web-based communication platform for community schemes, says that although bandwidth theft is common, one shouldn't rush into assuming that someone is piggybacking on your WiFi.
"Your Internet service provider might be having issues or is overloaded with traffic; your WiFi router might be experiencing interference from other electronics or walls and furniture might be preventing best access for a wireless signal to your computer.  If you're working from home during Covid-19, you should also expect to be using more bandwidth than usual.
"However, if the problem persists, there are steps you can take to see if someone is squatting on your WiFi," he says.
Tips to see if you have WiFi intruders
Try unplugging or turning off all of your wireless-capable devices that are connected to the Internet – including your smartphone, computer, gaming console, and television – and then go check your wireless router.
If the light continues to flicker (notwithstanding powering off all of the above), someone else may be using your WiFi.
Use an app that can search for any unfamiliar devices connected to your WiFi at unusual times and notify you if strange traffic is detected.
Log into your router's administration page and check the list of IP addresses, Media Access Control (MAC) addresses, and detectable names for devices connected to your WiFi. The name of the section with that list will differ based on your router, but it should be called something akin to "My Network," "Attached Devices," or "Device List." You can check this list against the devices within your house or apartment that you know to be connected to the WiFi. Not only can you track network activity through the admin console, but you also can change security settings.
Ways to prevent unauthorised use of your WiFi
Change your default network name(SSID) to a random network name, not something like 'Bill's home WiFi' that can easily identify you personally
Change the password for your pre-shared network key. The longer the length, the more difficult it is to crack – aim for between 25-64 characters including capitals, numbers and/or special characters, which makes them tougher to crack
Turn on WPA2-PSKencryption on your router
Position your router in the middle of your home to prevent your WiFi being accessible from outside
Turn off your WiFi when you're away from home
Enable your router's built-in firewall
Ensure all of your devices are updated with the most recent software and have antivirus software
Download a WiFi security-specific app, which tells you what devices are connected and monitors your network for suspicious activity
Google your router's IP addressto see a list of devices that have been using your network
Be vigilant– be wary of clicking on pop-ups and antivirus messages from unknown sources. Check that any website you visit is encrypted. You'll see a green padlock in the address bar, and 'https' at the beginning of the URL
Don't ignore signs that you may be losing bandwidth
Kinnear concludes:  "Although chances are that you'll find an innocuous reason for your apparent loss of WiFi (including that you've watched more movies than you thought you had), you shouldn't ignore it if you suspect that someone is tapping into your bandwidth.
"If they are managing to do that, there's a chance they can hack into your personal information too.  In the past year, nearly 700 million people in 21 countries experienced some sort of cybercrime.  Following the steps as outlined will protect you from this possibility."
Sources: Neighborwho.com; Comparethemarket.com
ABOUT ResidentPortal
ResidentPortal is developed and managed by Sandton-based software consulting and development company, Business Xponent Solutions (BXS).  The estate communication platform is one of the products emerging from 20 years of experience in the software industry of its founder, Omar Kinnear.  One of the original developers of the SARS eFiling platform, Kinnear brings to Resident Portal a wealth of knowledge of system performance and security.
Since 2016, around 100 complexes are using the Free Plan of ResidentPortal, and 1000 residents, mostly in and around Sandton, are enjoying the way the full-featured Standard Plan option is simplifying their lives in their estates and complexes.
For more information, contact:  Omar Kinnear, 078 798 3378