SA's new plugs standard: Keeping Children safe
Q&A with Gian Campetti, Chairperson of the SA Bureau of Standards SC23B Mirror Committee on SANS 164-2.
Q: Why has this Standard been introduced in South Africa?
This standard was originally adopted from the International Electrotechnical Commission (IEC) in 1986 and was called "The IEC world wide plug and socket-outlet system" which was a rather ambitious title, given that most countries had their own National Systems and really did not want to have to change to some internationally adopted one. However South Africa persisted and introduced it as a National Standard in 1992, the local manufacturers did not take it up immediately and it took another five years to realise the significant benefits and a further 10 years to complete the work locally. The reason for its introduction and local support was three-fold:
1 – Reduced cost to manufacture
2 – Increased safety for the consumer and
3 – Compatibility with 2-pin Euro plugs.
Q: What are the main differences between the old plug and the new one?
This is best described from pictures: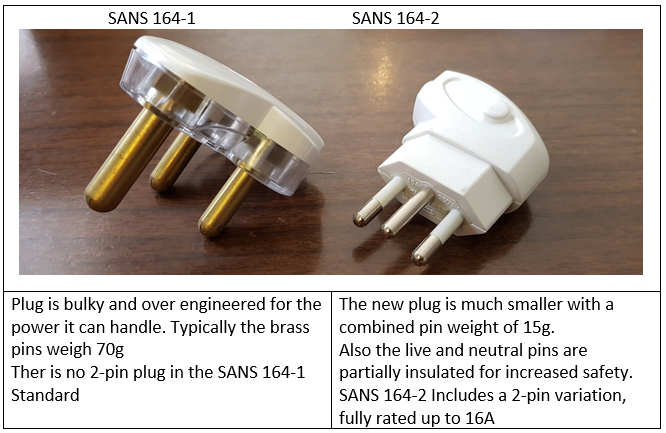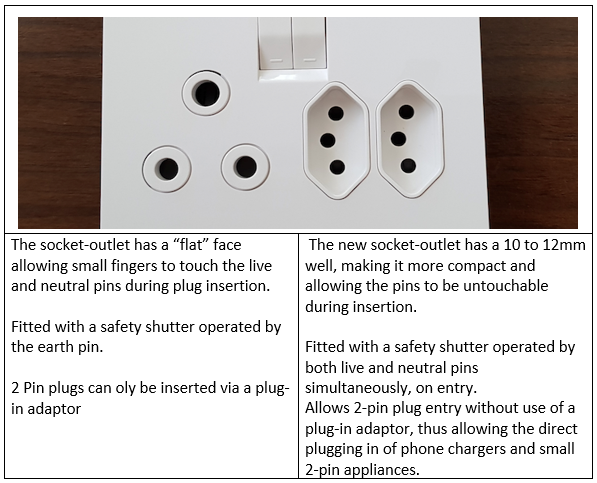 In summary the increased safety features of the new system are:
The plug pins are partially insulated.
The socket contacts are within a 10 to 12mm well
The safety shutter is operated by the simultaneous entry of both pins
Q: Are the new plugs mandatory for all new installations?
SANS 10142-1: The wiring of premises; regulates the installation of socket outlets and in the latest edition (2017 Ed 2), it has become mandatory for all NEW installations by way of the following clause:

Q: What has been the uptake by developers / electrical contractors?
Since the fact that prior to January 2018, SANS 164-2 was listed in SANS 10142 as the "preferred standard" a moderate uptake was seen in the market especially via the DIY stores, which offered the combined SANS 164-1 and -2 products for approximately the past 5 years. However with the new legislation this has now become the norm.
Q: Given the fact that deaths arising from misuse of the old plugs occur every year in South Africa, do you think enough has been done to alert the man-in-the street to the new plug standard?
From my experience there have been very few recorded instances over the past 30 years, where the plug itself was the cause of death by electrocution, several other causes that include fires due to short circuits and lack of adequate earth leakage protection were among those found due to investigations by the Chief Inspector.
ED'S NOTE:   A Business Insider SA article (December 11, 2018) however quotes  Bjørn Buyst, head of marketing at the South African Bureau of Standards, noting that SANS 164-1 plug and socket-outlet were notoriously dangerous.

Deaths by electrocution are categorised as accidental, and so statistics on deaths due to plugs are scarce. But in a 2009 study, Ryan Blumenthal of the Department of Forensic Medicine at the University of Pretoria, found an average of around 30 deaths a year by low-voltage electrocution – just in Gauteng.  Just over 40% of the fatalities he identified over three years were in people younger than 25.
Q: I understand there is an adapter for the old plugs to fit into the SANS 164-2 plug.  How available are these adapters / where can one buy them? 
Several Companies provide plug-in adaptors that fit into SANS 164-1 socket-outlets and have one or more SANS 164-2 configurations for 2-pin plugs, these are available at all supermarkets and DIY outlets.
Only one Company has adaptors that accommodate the 3-pin SANS 164-2 configuration, however, almost no appliances are fitted with the 3-pin SANS 164-2 plug, to date. This will change in the years to come.
Q: Would you advise homeowners to use the adapters?
Unfortunately life without adaptors and cord extension sets would be very difficult. The use of a "1 to 1" or a "1 to 2" adaptor is perfectly OK for most application where a conversion from the one standard to another is required, however plugging one adaptor into another is definitely not recommended.
What is recommended though is that in new installations the planning of extra socket-outlets is considered so as to avoid unnecessary adaptors and cord extensions, since at the offset the relative cost of extra socket-outlets is low compared to a retrofit when the building is completed.
Q: Is some effort being made to get appliance manufacturers to adapt to the new standard?
This is a sore point as most appliances are imported and there's no regulation in place to compel manufacturers and importers to adopt the new standard. This should change gradually as more socket outlets are fitted to fixed installations and the demand grows within the market, by the consumer.
There has never been a "cut-off" envisaged for the transition from SANS 164-1 to SANS 164-2 and it is likely that the two standards will co-exist for some years to come.