TOP 2020 DESIGN TRENDS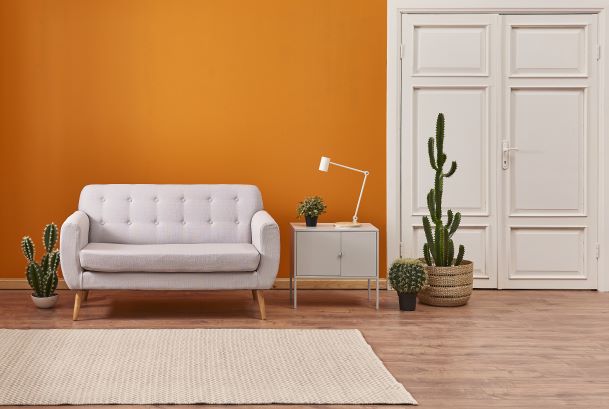 Oh, the joys of the new year!  As we honour earth's revolution around the sun, we create new resolutions, set new goals, and of course, seek out new trends.  While our personal lives may need a bit of refreshing, our homes deserve the same kind of attention too.  Infusing your spaces with what's current can be tricky, but this year we've got you covered. 
Colour
The colour forecast across the global design industry Pantone is classic blue 19-4052.  This colour highlights the need for a dependable and stable foundation on which to build as we cross the threshold into a new era.  The shade is considered restful, aiding concentration and clarity of mind.  We need to consciously do everything we can do to enhance the essence of our wellbeing, creating serene spaces in our homes after escaping the stressful daily rat-race.

Grey is still a huge colour trend because being a neutral colour, it covers a wide range of combinations and styles that in the next year will be bolder when combined with vibrant colours. It can be applied to paint interior walls and furniture decoration.  It is also visible in carpets and textiles.
Looking to its neighbour on the colour wheel, Dulux's colour of the year, Tranquil Dawn 45GY55/052 is a soft, nuanced shade of green which promotes the calm and collected mood we strive for. This colour, paired with similar tones, will enhance the harmonious home we need.
Style
Grandmillenial style is having its moment.  The look is traditional design with a twist: blending elements of classic design like chinoiserie, fibre rugs, topiaries and more, with a contemporary edge.  Monochromatic pale-coloured rooms are safe, but out. They may be soothing or calm, but this year we are going to add personality and excitement by adding splashes of bold colour such as blue, green or even aubergine.
Accent walls are huge.  Our motto is go big or go home!  If you love a colour or pattern enough to cover a whole wall in it, be bold and just do it.
Fabric trends
The answer we have all been waiting for!  No more ink, redwine and mud stains on our furniture…Performance fabrics are a must – they have changed the way we live by making every room functional for the entrie family… and pets.  They could be used in the messiest of family rooms, but also in luxurious  living and dining rooms, while maintaining a fashionable aesthetic.
FibreGuard is a trusted fabric quality label, which represents a convenient solution to carefree easy living. FibreGuard's Stain Free Technology allows you to enjoy your sofa, or favorite armchair, assured that it will be able to stand up to everyday stains. From ballpoint pen, to coffee, mud, red wine, and ketchup, common household stains are easily removed allowing you to keep your fabric upholstered furniture looking fresh year after year. FibreGuard features a wide variety of fabric types, styles, and designs seamlessly combining technology and style.  It is available from various fabric houses such as Home Fabrics, Fabric Library and Stuart Graham Fabrics.
Printed flower fabrics as well as plains are still the textile choices, with stripes and scripted fabrics losing their popularity.
Materials
Decorative trends show wood as the main material that will be used in a variety of applications.  Interior wood used for decoration such as furniture, flooring, ceilings and trendy dividers is a biggie this season.  The main colour is natural wood, to enhance lighter spaces.  Darker wood colours such as dark oak and mahogany will disappear soon.
In addition to the wood in furniture, floors, ceilings and decorative accessories, the trend towards the natural is imposed on the decoration of this year and we will have the presence of wicker, jute and rattan in our interiors.

Source: https://visualhunt.com/rattan-wall-decor
Bathrooms
Gone are the days for bathrooms tiled up to the ceiling. Renovations are in!  Bathrooms are now tiled only in showers and floors with more fun experiments trending, using elements such as wallpaper in bold pattern and colour to enhance these spaces, even if they are tiny.  The look can be very dramatic. Making use of trendy lighting instead of downlighters or 'ufo' shaped shades will help this look.  Adding elements such as wood will also become very popular this year.
The biggest trend in bathrooms is opting for black sanitary ware. It is huge and can give any bathroom an update and modern feel.  From shower frames to taps, handles and basins are all widely available.
Upholstered walls
If you want to make a statement, an upholstered wall or tall headboard will do it.  This can be either a half wall of upholstery or it can be the entire wall applied in a variety of patterns.  This will be done in either buttoned effect or the new vertical panneled look creating the necessary style of luxury and comfort.
Curtaining
Soft, flowing sheer curtaining in the trendy wave style is replacing the dark venetian blinds.  Roller blinds behind sheers in areas such as bedrooms where privacy is needed will make a very appealing, serene and calm space, together with a call for luxurious linen and bedding with thread counts that last longer.
Plants
Faux flowers and plants are old school. They might be great initially, but will remain the same and eventually get dust. Going green with healthy, real indoor plants helps give personalty and another layer to a space.  Doing your homework on seasonal planting, watering and correct placement will ensure success in growing indoor plants.  Adding a living wall or a low-maintenance Bio Montage wall to a little corner of your home or patio makes your space beautiful, while improving mental health by adding a live ecosystem into your home. It's simpler than you think, and the benefits are plentiful!

Source: https://naturahq.com/
What's out

The following trends are out… mosiac, bedding with no thread count, mirrored furniture, metal framed furniture, arches, real marble countertops, stark white kitchens without a combo-colour, concrete flooring, wasted spaces, subway tiles and visible wiring.
To enquire more and see some of the above kindly contact:
 Frances Lezar
 Marianne F. Creations
Showroom: 16 Estcourt Avenue, Wierdapark, Centurion
012 653 1107 (office) – 084 653 1107 (mobile)
www.mfcreations.co.za